New York City, NY — The National LGBT Chamber of Commerce (NGLCC), the business voice of the LGBTQ+ community and certifying body for LGBTQ+-owned businesses nationwide, and Grubhub, a leading U.S. food-ordering and delivery marketplace, joined Playbill's "Pride in Times Square" celebration to present $100,000 in NGLCC/Grubhub Community Impact Grant Program funds to NYC-based LGBTQ+ and allied bars and restaurants.
Among the grants awarded were $25,000 each to Henrietta Hudson and 4West Lounge; and $10,000 each to Kopatiam, Baz Bagel, Pierogi Boys, The Crabby Shack, and Superfine.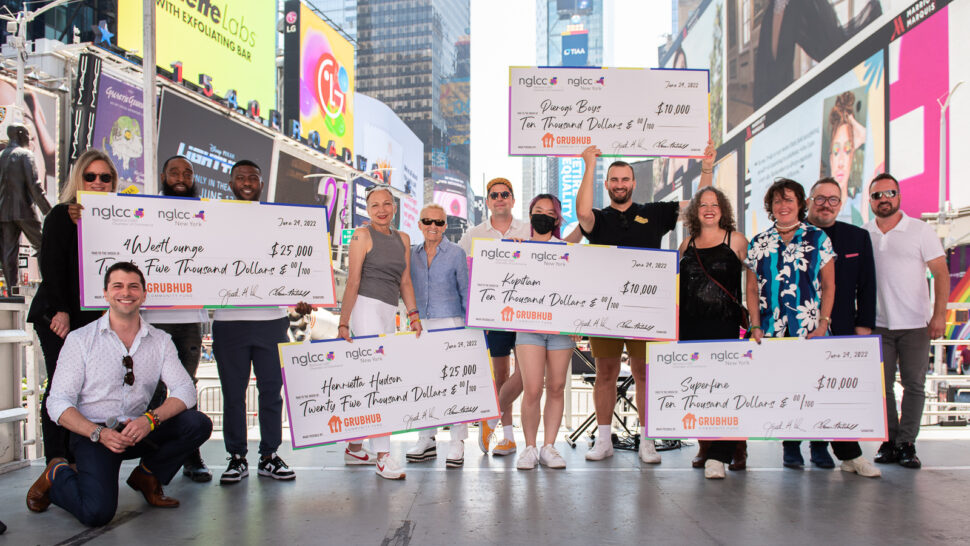 "We often say at NGLCC that 'If you can buy it, an LGBTQ+-owned business can supply it,'" says NGLCC Co-Founder and President Justin Nelson. "That is especially true of the LGBTQ+-owned restaurants across America who kept our communities and first responders fed throughout the pandemic. We're so grateful to Grubhub for joining NGLCC, nglccNY, and Playbill for Pride in Times Square to spread some much-needed joy and inspiration to these outstanding businesses in NYC, as we have throughout the nation. America's 1.4 million LGBTQ+-owned business owners have shown incredible resilience during the COVID-19 pandemic, and now, in turn, we can help them recover stronger than ever."
"COVID has turned the restaurant industry on its head the last 18 plus months, and at Grubhub, we've been working hard every day to support our restaurant partners across the country," said Amy Healy, vice president of government relations for Grubhub. "As the world starts to return to a new normal, we're proud to partner with the NGLCC and provide these grants to LGBTQ+ owned and LGBTQ+ ally-owned restaurants across the country that are pillars of their communities."
Of the over 100 grants to be awarded, 30% of the funds available are intended for businesses owned by people of color and transgender/gender non-conforming individuals. For more information on the Community Impact Grant Program please visit www.nglcc.org/ghgrant.
# # #
About NGLCC
The National LGBT Chamber of Commerce (NGLCC) is the business voice of the LGBT community and is the largest global advocacy organization specifically dedicated to expanding economic opportunities and advancements for LGBT people. NGLCC is the exclusive certification body for LGBT-owned businesses, known as Certified LGBT Business Enterprise® (Certified LGBTBE®) suppliers.
About Grubhub
Grubhub is part of Just Eat Takeaway.com (LSE: JET, AMS: TKWY, NASDAQ: GRUB), a leading global online food delivery marketplace. Dedicated to connecting more than 32 million diners with the food they love from their favorite local restaurants, Grubhub elevates food ordering through innovative restaurant technology, easy-to-use platforms and an improved delivery experience. Grubhub features more than 300,000 restaurant partners in over 4,000 U.S. cities.